Features of the
POSI-CURE UV Curing System

POSI-CURE, the name says it all. You need a UV curing system that is positive in every respect, reliable, versatile and capable. The Posicure ultraviolet curing system is all that and more. The Posicure UV curing system is loaded with features that compare favorably with more expensive conveyorized curing systems.

Rugged, fully equipped power supply
Our power supplies are engineered for long life by using the best quality ballasts and electrical components. We designed the UV-curing power supply with ample forced air-cooling because keeping the power supply cool is essential for optimum ballast life. The handsome control panel and heavy-duty electrical cabinet are laid out for easy access in the event that service is needed. Our standard power supply is equipped with casters so that if the power supply may be stored under the conveyor to reduce floor space requirements.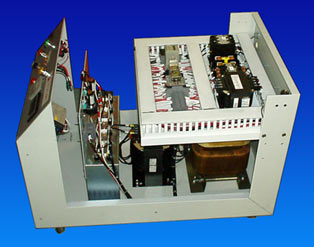 Safety Interlocks
The enclosure and lamp housing are interlocked to shut off power to the ballast circuit of the UV-curing system if the unit is opened accidentally under power. WARNING: always disconnect power before servicing Posicure power supplies and any other electrical equipment!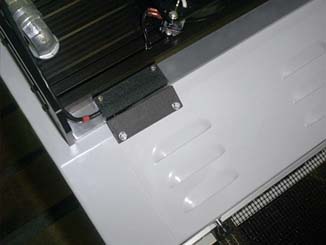 Standard features on the Posicure Power supply:

Lighted lamp on and off switches

Lamp power selection switch

Hour-meter
(Indicates periodic lamp replacement and other PM.)

Ammeter
(Indicates overall ballast circuit performance)

Lamp Voltmeter
(Indicates nominal lamp circuit voltage)

Irradiator/Ballast overheat light
(warns of cooling system blockage or failure)

Interlock light
(warns of power disconnect due to safety interlock operation)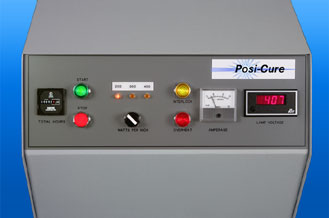 Patented, High efficiency irradiator
The heart of any UV curing system is the lamp housing or irradiator and that is where the Posicure system enjoys another distinct advantage. The Posicure lamp housing utilizes patented, highly focused reflector geometry and new focusing architecture to deliver higher UV cure energy, greater efficiency, and cooler overall performance than comparable UV irradiators. The Posicure irradiator incorporates a ¾ reflector, end reflectors and a special, patent pending, v-shaped reflector positioned directly above the lamp. The addition of the unique v-shaped reflector redirects ultraviolet curing energy around the quartz tube and to the ¾ reflector thereby capturing energy that would have been lost in conventional reflectors and causing the lamp to operate cooler. Field evaluations of the Posicure UV-Curing system indicate that 20% additional cure energy is being received at the substrate surface as compared with competitive UV-curing systems.

Easy lamp and reflector access
The lamp housing is easily accessed by simply lifting up on the handles on the end of the irradiator. The ease of access to the lamp housing facilitates quick inspection of lamp and reflectors. The lamp can be replaced without tools in only a few minutes. Reflector removal and replacement is quick and easy due to the quick change over features designed into the lamp housing.

Conveniently located speed control
The speed control for the Posicure conveyor is located just wherever you want it! The modular design allows for custom placement for quick operator access. An optional tachometer records the conveyor speed and displays it in feet per minute.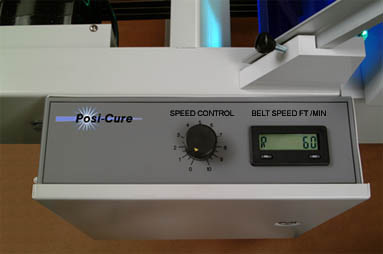 Performance

A standard one-lamp system can provide 3,000 1-foot impressions per hour, running at 50 feet per minute.

With more power or additional lamps we can go much faster. We can build systems with two, three and even more lamps which can exceed 5,000 2-foot impressions or 167 feet per minute.

For more info,
Contact Us.


The POSI-CURE UV Curing System is adaptable to most offset, litho and flexo presses, including:

ABDICK
ROLAND FAVORITE
ROLAND REKORD
HEIDELBERG
and more!